The most recent addition to the Hard Rock chain, Officially opened last night, with a host of Celebrities, smashing guitars outside, by the Hollywood Walk of Fame.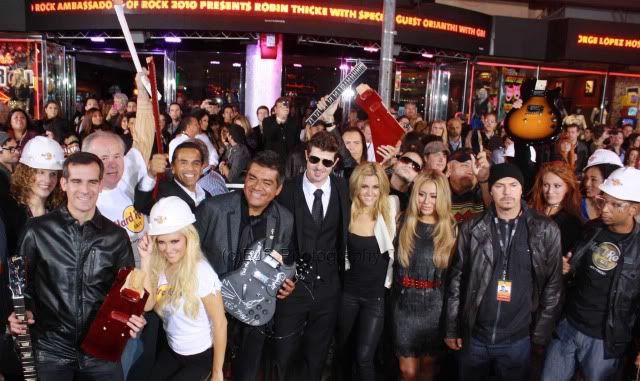 The celebrity line up included R&B crooner - Robin Thicke, funny guy - George Lopez, This Is It's rock chick/guitarist - Orianthi, and Los Angeles' Mayor Antonio Villaraigosa.

Other celebrities, who took part, included - Playboy's Bridget Marquardt ("Girls Next Door"), Angie Everhart (Actress/Model), Ashley Roberts (from the Pussycat Dolls), Aubrey O'Day (Playboy model and former member of Danity Kane), Jay Phillips (Actor/Def Comedy Jam Comedian "Semi Pro, Prom Night, Baby Mama etc.), Jeremy London (Actor/Producer "Mall Rats", "Party of Five" etc.), and Jonathan Lipnicki (Actor "Jerry Maguire, Stuart Little etc.), to name a few.
(from L-R)Jay Phillips,
Bridget Marquardt,
George & Robin,
George Lopez,
&
Orianthi
It's not every day you see models in their high heels smashing guitars to pieces, so it was certainly a treat for spectators. I found it to be quite entertaining. George Lopez's guitar seemed to put up a fight, as it took several attempts to destroy it. Proud of his smashing skills, Jay Phillips told me he was going to keep a piece of his guitar as a souvenir! Robin Thicke and Orianthi appeared to be true guitar destroying professionals... The Mayor seemed to take to it like a duck to water too.

Just for the record... The guitars that were smashed, had been donated by the manufacturers, who had deemed them to be defective.

After the Rock 'n' Roll "moment", the VIP's and celebrities, plus yours truly (of course!), were ushered back inside the Hard Rock Cafe (located in between the world famous Kodak Theatre and the Grauman's Chinese Theatre), for the ultimate party. There were lines of waiters and waitresses, with trays full of alcohol and appetizers, that seemed to be ongoing throughout the night. Bloody Mary's with shrimp in them, pizza, southern style chicken sliders, regular sliders, pork-filled potstickers, oysters, crab cakes, and sesame seed chicken skewers, were all included in the offerings, plus a table with a mountain of fruits and cheeses, and another "naughty" table full of chocolate treats, profiteroles, cheesecake, and green "red velvet" cupcakes. There was even a "cool" Hard Rock ice sculpture that was lit up in red.

John Lennon Memorabilia,
Ice Sculpture, and
Mountains of food
While guests were mingling and celebrity spotting, George Lopez hosted the evening on stage, and introduced the performers - Orianthi (who played some of her own material - a nice acoustic guitar set), and Multiple Grammy Winner - Robin Thicke - who was the main performer for the evening, and had the crowd (especially the ladies) going wild. DJ Muggs from Cyprus Hill was the DJ for the evening, keeping the crowd hyped up, in between sets.


George Lopez on Stage, and
Orianthi Performing on Stage
Even the kitchen staff seemed to be feeling it, as they were dancing in the kitchen, looking like they were having their own party! (Though I think they were oblivious to us noticing... (what a shame I happened to have filmed some of it hehe!) It certainly added to the entertainment.
Overall it was a great event, and everyone seemed to be having a good time. And most importantly - all proceeds from the cash bars were being donated to the Women's Center Downtown Los Angeles who provide permanent supportive housing, more than 50,000 nutritious meals, medical and mental health services, job training and literacy programs to hundreds of women in need each year. If you would like further information, you can visit
http://www.dwcweb.org/donate.htm
Thank you Hard Rock, for the invitation... it was a pleasure to be there. I believe it's now safe to say, you have declared the Hard Rock Cafe HOLLYWOOD to be OFFICIALLY OPEN...!
--
Emily Smith